Amarinda Jones
Biography
Amarinda Jones believes anything is possible and sometimes just asking for the impossible will surprise someone enough that they will give it to you. Writing is like that. Put it out there and wait for a response. There is always the possibility you may fall on your arse, but after all, that's what cellulite is for. Amarinda believes in taking chances, speaking her mind and aging disgracefully. Twenty years from now she plans on being the neighborhood witch that all the kids are scared of. But then, everyone has to have a hobby.
Where to find Amarinda Jones online
Books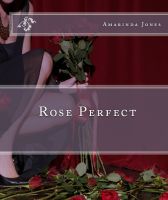 Rose Perfect
Rosanna Harlow has just come out of the worst year of her life. All she wants now is a peaceful, prosperous 2011 with no problems or excitement. The last thing Rosanna Harlow needs is the darkly attractive Archer McCall turning up on her door step telling her he is a Time Traveler from the year 2053 and that he wants her help. So why her? She has no special powers.