Professor G C Cook
Biography
Professor Gordon Cook, DSc, MD, FRCP is a physician with a special interest in tropical and infectious diseases, and a medical historian; he was formerly a Medical Specialist, Royal Nigerian Army; Lecturer in Medicine, Makerere University, Uganda; Professor of Medicine, The University of Zambia; Professor of Medicine, Riyadh University, Saudi Arabia; Professor of Medicine, The University of Papua New Guinea; Visiting Professor of Medicine, The Universities of Basrah and Mosul, Iraq; and Visiting Professor, Quatar.
Where to buy in print
Books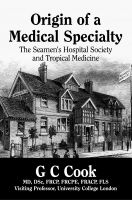 Origin of a Medical Specialty: the Seamen's Hospital Society and Tropical Medicine
The unique role of the Seamen's Hospital Society (SHS) in the foundation of the formal discipline of tropical (colonial) medicine at its Albert Dock Hospital (ADH) in 1899 is not widely appreciated.This book documents many of the articles with a relevance to tropical medicine, a discipline which rapidly spread from the ADH to numerous countries through the globe.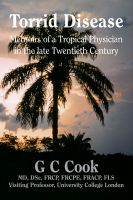 Torrid Disease: Memoirs of a Tropical Physician in the late Twentieth Century
This very readable and well illustrated book outlines the medical career of a physician who undertook a series of assignments in tropical countries between 1960 and 1990: Nigeria, Uganda, Zambia, Saudi Arabia and Papua New Guinea. He was later appointed to London's Hospital for Tropic Diseases.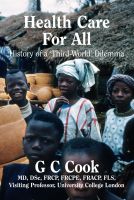 Health-Care For All: History of a 'Third-World' Dilemma
The author argues that a balanced viewpoint between curative and preventive medicine was both essential and the only way forward in both developing and developed countries. That is a simple 'message' and the underlying theme in this book.
Professor G C Cook's tag cloud