Andy Butler
Biography
Andy Butler currently works at consumer products company Procter & Gamble, based in Cincinnati, OH. He lives with his girlfriend, their dog Riley, and their leopard gecko Potato.

Andy studied economics at Carnegie Mellon University in Pittsburgh, PA. Originally from Hamlin, NY, Andy is an avid fan of Syracuse University basketball and the Buffalo Bills.

The "non-fiction novel" New House 5 was inspired by Andy's experiences as a resident assistant at Carnegie Mellon.
Where to find Andy Butler online
Books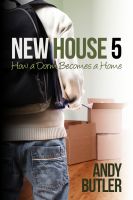 New House 5: How a dorm becomes a home
(4.33)
Welcome to New House 5. For fifty-six freshmen it's home. A place where friends are made and doors are always open, where hearts are broken and tears are shed. And for resident assistant Andy Butler, it's the best story about friendship he has ever known. Watch as these students try to overcome their flaws and fears to create a bond so special that nothing can pull them apart. Not even themselves.