Angela Lux
Biography
Angela Lux holds a BA in English Language and Literature from Gordon College outside Boston, MA. While at Gordon she had the awesome opportunity of spending a year studying abroad at Gordon-At-Oxford in England, and belatedly celebrated her college graduation with a three week study program at Jerusalem University College in Israel led by Gordon professor, Dr. Elaine Phillips.

She is an avid reader, laugher, and drinker of coffee. Her favorite pastimes involve hanging out with friends - preferably at coffee shops, family time, BBC TV, traveling, shopping dates with her sister and cousins, enjoying long medieval debates with her brother, obeying her nephews' dictatorial commands 'Jump Angela', and hanging out with her band o'kindred spirits – you know who you are.

Angela currently teaches 6th and 7th grade social studies at Crossings Christian School. Knights – you rock!
Books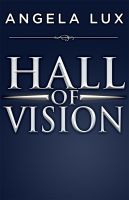 Hall of Vision
Two children, Chris and Kate, lead perfectly normal lives except for one thing: They are occasionally transported to a wondrous place, called the Hall of Visions, where they are met by someone named Numa. As they visit the different rooms in the Hall of Visions they discover life challenges. Walk with them as they find help for issues like gossip, fear, and self-worth. For ages 6-12.
Angela Lux's tag cloud