Marion Baetz
Biography
I was born in Knoxville, Iowa in 1970, and lived the early
part of my life there, until moving to Indiana when I was
a teenager. I entered the professional world when I was
22, and had a reasonably successful career until the
economic crisis left me jobless in 2009. I have, over the past
year, studied my life and my actions, and what has happened
to me up to this point, and decided to put my angst
into words here, to try to connect with the many thousands or millions
of others who are finding it harder and harder to fit in to today's
politically correct, anti-individual world.
Books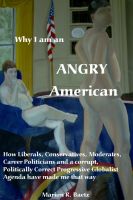 Why I am an Angry American: How Liberals, Conservatives, Moderates, Career Politicians and a Corrupt, Politically-Correct Progressive Globalist Agenda have made me that way
A unique perspective on why Americans should be angry over how our country has been taken over by political zealots and career politicians whose agenda is to force a progressive, politically correct "Globalist" way of life on all of us, while masquerading as Liberals, Conservatives, and Moderates.
Marion Baetz's tag cloud