Anne Kimberly
Biography
Anne resides with her husband of 30 years, a huge dog, two cats, and a posse of chickens in an old farmhouse in Ohio. As a young girl, she found it difficult to comprehend how much God loved and valued her as a person, so she was determined to make that discovery easier for her own granddaughter. Her first young adult inspirational, Dark Well of Decision, is now available. It is her hope that it captures the imagination and attention of other readers while helping them along on their own journey to find the reality of God.
Where to find Anne Kimberly online
Where to buy in print
Books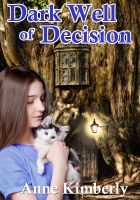 Dark Well of Decision
In one frightening moment,after peering into the foreboding opening of an ancient well, 13-year-old Zoe finds herself pulled by a strange force down into its liquid depths. Trapped and completely alone, she cries out to a God she isn't sure exists. In the midst of another world,she is faced with the biggest decision of her life while pitted against a powerful evil that seeks to destroy her.