Micheal J. Brooks
Biography
Michael J. Brooks holds a BA in art and an MFA. He is a member of the Independent Book Publishing Professionals Group (IBPPG), and his first novel, Exodus Conflict, was a finalist of the 2013 Next Generation Indie Book Awards, in the sci-fi/fantasy category, and also received honorable mention from the 2013 London Book Festival, in the science fiction category.

As he currently tries to balance his busy life in Washington, DC, he seeks to write science fiction novels which are not meant to be only entertainment but to address some of the most crucial issues of our time and explore the trials of being human. He hopes to create characters that people can relate to and stories that will have an impact on them long after they are finished reading one of his novels.
Where to find Micheal J. Brooks online
Books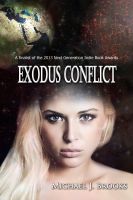 Exodus Conflict
For three years, humankind and an alien race called the Zull have been battling each other over a new world both races are in need of. Caught in the midst of this conflict is a lone journalist named Alex Mercer who seeks to understand why the war continues, even though the simple solution of "coexistence" could end it tomorrow.