Aaron Posey
Biography
Aaron was born and raised in Indiana and attended Purdue University where he studied Political Science. He opted out of a degree for the stability that any writer/musician is entitled to. After spending the better part of a year hitchhiking across the country honing his writing skills, he's now back where it all began, pursuing markets for many of his other short stories and putting the finishing touches on both of his novels in progress. He is currently writing songs for an upcoming album and praying the utilities don't get turned off.
Where to find Aaron Posey online
Books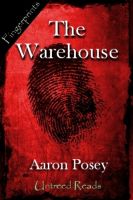 The Warehouse
A young policeman, anxious to make Detective, goes undercover on a drug bust. Will he live long enough to reach his promotion? Flash fiction from our Fingerprints mystery/thriller short story line.
Aaron Posey's tag cloud