J. R. McRae, Ph.D.
Biography
I have enjoyed writing since I was a child. Born in Michigan, I spent much of my childhood in San Francisco, CA and have fond memories of going fishing with my father and brothers in a sleepy, spot across the Bay called Sausalito (quite the chic locale today!). Early on, I developed a deep appreciation and love for the natural world - nurtured by my father who took daily delight in that which most people ignore or take for granted - the flora, fauna, various species of animals, birds, trees, etc. that share this planet with us. Respecting the harmony of the universe has helped to enhance my understanding of the complexity of human behavior, the value of a higher state of being and the distinctive power to be found within each of us.
Where to find J. R. McRae, Ph.D. online
Books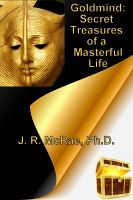 Goldmind: Secret Treasures of a Masterful Life
Goldmind is a treasure map, a platinum personal GPS to guide you along that least traveled road to distinction and success. In our nanosecond, flash mob, 21st Century world, Goldmind highlights the most significant aspects of living that elevate and set you far apart from the ordinary and the mediocre. A photo-journal eBook, it's a refreshing, thoughtful, subtle guide to personal empowerment.
J. R. McRae, Ph.D.'s tag cloud