Ariejan de Vroom
Biography
Ariejan is a software engineer at heart, but also likes to write for humans. He is still in the early stages of his writing carreer, so keep an eye out for new work. Ariejan lives in Breugel, the Netherlands.
Where to find Ariejan de Vroom online
Books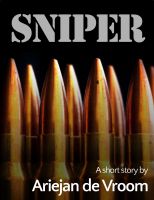 Sniper
(3.50 from 2 reviews)
Willem, a Dutch farmer has been plotting and planning for over three years to finally get his revenge on a German SS Officer named Rudolph Klatt. Will his ambush be successful?
Ariejan de Vroom's tag cloud