Arthur Mitchell
Biography
Arthur Mitchell is an erotica author of many obsessions, but all of them center around power play. He is the author of more than several dozen short stories, many of them centered around the dark delicacies found in kinks related to bondage, domination, cuckolding, and breeding.

For Mitchell, sex is all about dualities. His stark tales touch the boundaries of a curious and arousing unreality, adjacent to the real world, but also separate from it. You won't find lusty college coeds and red faced titans of masculinity in his stories. Or, at least, not in the ways you've seen them before.

Instead, you'll witness secretive desires foaming to the surface. His characters are simultaneously prisoners and explorers, edging into mysterious vistas dominated by decadent elites, fetish cults, and bored suburbanites unable to resist the irrational, addictive fantasies rattling around in their skulls.

His places and people aren't always pleasant or pretty, but they are elegant and oddly alluring. If you enjoy fine erotica with a dark undercurrent, then Mitchell's work may find its way into your hands and into your head.
Where to find Arthur Mitchell online
Books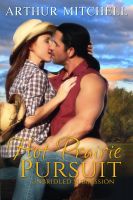 Hot Prairie Pursuit: Unbridled Submission
Misty Sheen never expects a handsome stranger knocked out cold on her land. Healing him in her bed is just the summer's first great shock. Cowboy turned bounty hunter Declan Schuster wants to capture the ruthless smuggler who got away, if only he could stop getting so distracted by his beautiful host. Sparks are inevitable, and they burn! In remote South Dakota, pursing love has a high price...