Dan Wetta
Biography
I was born October 10, 1927, and I grew up during the Great Depression of the 1930's. I enlisted in the Army in 1946 and was stationed at Camp Lee, Virginia, near Richmond, where I met my wife and settled down.
My father was a commercial artist, a steel-and-copper-plate engraver for Dameron Pierson Stationery Company in New Orleans. He was foreman of their printing department. One of his tasks was to engrave printing plates to create paper money for Central and South American countries.
I began drawing and painting as a child but did not want to become a commercial artist like my father because I wanted to paint things that interested me, so I made a living as an accountant-auditor.
I have exhibited at the Virginia Museum of Fine Arts, and I was a member of the Richmond Artists' Association for about fifteen years.
We used to have fun exhibiting at malls until one day a City of Richmond sales tax agent come by with a note pad and began writing down the names of artists who did not have a sales tax license.
When I got the city license, the IRS required me to file a quarterly FICA tax form, and the Commonwealth of Virginia said I had to have a business license. Then the malls got worried about liability, and they made us buy liability insurance.
Rules and regulations were taking up so much of my painting time that I said, "To heck with it!" And I quit exhibiting. As a result, I have accumulated quite a few paintings over the years.
Books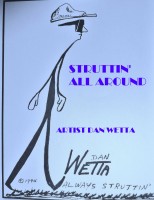 Struttin' All Around
Struttin' All Around is volume 3 of 87-year-old-artist Dan Wetta's series entitled, El Artista: A Lifetime of Curiosity. The author is publishing his entire life's works of art, including paintings, mixed media drawings and creations, doodles and cartoons. In this volume, artist Dan Wetta includes bible cartoons, spiritual renderings of birds, wacky cartoons, family, and odds and ends.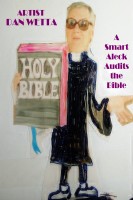 A Smart Aleck Audits the Bible
Dan Wetta was born in 1927 and inherited an interest in art from his father, a commercial artist. Dan began drawing and cartooning as a child, but he earned a living as an auditor.When he retired, he thought he could use his auditing experience to ferret out errors in the bible, but boy, did he get fooled! This is the first in a series of books entitled, "El Artista: A LIfetime of Curiosity."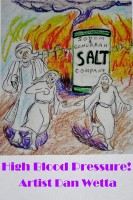 High Blood Pressure
High Blood Pressure is the second in a series of books entitled, El Artista: A Lifetime of Curiosity. The series documents the lifetime work of 86-year-old artist, Dan Wetta. Each painting or cartoon is accompanied by a story, anecdote, or humorous commentary. This volume, like the first, has humorous or thought provoking Bible themes and commentary and includes satire, nature, and landscapes.
Dan Wetta's tag cloud