Author Saundra
Biography
Saundra Jones grew up in Cleveland Mississippi and as an adult now resides in Indiana. She is married with two daughters ages 11 and 5 years old. Originally she started writing screen plays at the age of twelve and as an adult her need to create intensified. This intensity produced her first self published novella titled "Owning Up". Unable to stop there and with the voices and emails of fans requesting more she penned two more novels. Her journey as a published writer began with Delphine Publications in 2012 and is currently working on my next project.
Where to find Author Saundra online
Where to buy in print
Books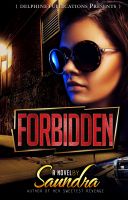 Forbidden
Tragic skeletons start to crawl and before long old wounds lie wide open. With no way out she is faced with her tainted past with no clear picture of the future.