Dan Baldwin
Biography
Dan Baldwin - writer, author, co-author, and ghostwriter has written more than 40 books on business and related topics, including works in the "...For Dummies" series, the "Streetwise Guide" and for Dearborn. His Western novels, "Caldera," "Caldera-A Man on Fire," and "Trapp Canyon" are available for download from Amazon and Smashwords and are also available in paperback. His non-fiction website is www.danbaldwin.biz and his fiction website is www.fourknightspress.com.
Where to find Dan Baldwin online
Books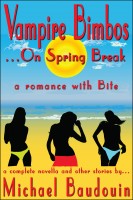 Vampire Bimbo On Spring Break
Summer fun breaks loose when the Vampire discovers sun blocker, beaches and bimbos on Spring Break - a complete novella. Six short stories round out this collection of craziness and parody from Michael Baudoin.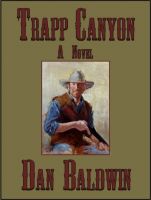 Trapp Canyon
Can A Man Find Redemption Through Murder? Grat O'Brien hunts the man who left him for dead in the Arizona desert. He makes enemies and allies, educates himself, and finds a passion for an elegant Tombstone woman with her own dark and mysterious secrets. When he at last confronts his prey, will he torture and kill or will he forgive and forget? The answer can be found in Trapp Canyon.
Smashwords book reviews by Dan Baldwin
Stories from the Cantina on May 26, 2011
(no rating)
I didn't even know what magic realism was till I read Stories from the Cantina. Now I'm hooked on the genre. I can think of no better introduction than this book of short stories. Each one stands on its own, but read in sequence they tell a remarkable story. Harvey's skill as a writer makes you not only read, but read again and again - each time with a new appreciation, understanding and enjoyment of the work. These are great stories. Buy your ticket now, step on board and get ready to enjoy a great ride. Dan Baldwin/Author:Caldera series of Westerns

Nicky, Sasquatch, and Pink Elephants on June 29, 2012
(no rating)
Dan Baldwin: Comparisons to M*A*S*H and even Catch 22 are inevitable and appropriate. I hope Micheal Green is busy writing a follow up to this hilarious work. Highly recommended!