Barry Marsh
Biography
Barry Marsh lives in Suttons Bay, a small village and harbor in Michigan s northernwestern lower peninsula. He is a graduate of Wayne State University. Although he has traveled widely throughout the world, the subject matter of his writing is usually close at hand the people and environment of the North Country.

In preparation for writing Good Harbor Bay, Barry spent many hours interviewing long-time residents, researching such fast-disappearing traditions as logging with horses, and learning more about the local flora and fauna. As an avid Lake Michigan fisherman, understanding the many moods of the big lake, as it s called locally, comes naturally. Asked to name the most beautiful place on earth, he answers quickly, Watching the sun rise off the coast of North Manitou Island in Lake Michigan.
Where to find Barry Marsh online
Books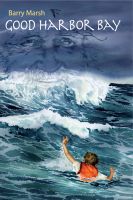 Good Harbor Bay
Good Harbor Bay" tells Josh Ogden's story of being uprooted from his city life to go live in the frozen northern wilderness of Michigan with his father and grandfather. Repulsed by his surroundings at first, he soon begins to learn many things, and the ultimate test of his knowledge may have lives on the line.