Angela Ackerman
Biography
Angela Ackerman is a member of the SCBWI and writes on the darker side of Middle Grade and Young Adult. She believes in the monster under the bed, eats French fries and ice cream together and is dedicated to paying-it-forward however she can. Angela lives in Calgary, Alberta in the shadow of the Canadian Rockies with her husband, two children, dog and zombie-like fish.

Becca Puglisi is a YA fantasy and historical fiction writer, WANA International instructor, conference speaker, and member of the SCBWI. She resides in sunny south Florida, where she likes to watch movies, drink caffeinated beverages, and eat foods that aren't good for her. She lives with her husband and two children.
Where to find Angela Ackerman online
Books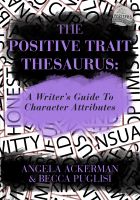 The Positive Trait Thesaurus: A Writer's Guide to Character Expression
The Positive Trait Thesaurus is brimming with ideas to help authors develop one-of-a-kind, dynamic characters that readers will love. Extensively indexed, it contains a large selection of positive attributes to choose from when building a personality profile. With entries written in a user-friendly list format, this brainstorming resource is perfect for any character creation project.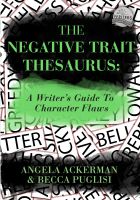 The Negative Trait Thesaurus: A Writer's Guide to Character Flaws
This book is a flaw-centric exploration of your character's arc, motivation, emotional wounds, and basic needs. Its vast collection of flaws will help writers to explore the possible causes, attitudes, behaviors, thoughts, and related emotions behind their characters' weaknesses so they can be written effectively and realistically. Downloadable tools for character building are included.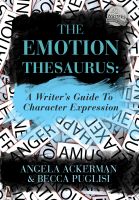 The Emotion Thesaurus: A Writer's Guide to Character Expression
(4.78)
The Emotion Thesaurus is a tool for writers who want to convey character emotion effectively. It spotlights 75 emotions and the body language cues, thoughts, and visceral responses for each. Also addressed are common emotion-related writing problems and methods to overcome them. This thesaurus encourages writers to show, not tell, emotion and is a brainstorming resource for any fiction project.