benus adu poku
Biography
Benus Adu Poku is also known as Nana Darkwahene Benjamin Adu-Poku. This prolific novelist, playwright, poet and literary critic was educated at the University of Ghana, Legon, Ghana; Rand Afrikaans University now University of Johannesburg (winner of the Award for Best Student) and Leadership Centre, University of Natal, Durban, South Africa. He is also the author of soul-inspiring and thought-provoking works including:
Araba Ungrateful Husband
Berta's Big Secret
Sweet Freedom
Mariza Naked Chameleon
Shrine of Jubilee Gold
King Crab and Slave Maidens
Ghostheart
Den of Injustice (Book One)
Den of Injustice (Book Two)
Sacrifice in the Sahara (Book Two)
Sacrifice in the Sahara (Book Three)
Light for Malira
Justice Cry
Gudula
The Demon's Apostle
Love Me Tonight For the Last
His command of language, style, originality and philosophical ideas on justice and morality as portrayed in the vast array of his literary works, ensure an immense universal appeal. Benus Adu Poku is also a versatile poet with mastery of language and fertile imagery. It is on record that he became a hero in the hearts and minds of budding Australian poets and Aborigine writers with the publication of his special message and poetry in FreeXpression, a Literary Magazine for Australian writers in 1996. Major anthologies of the author's poetry are:
Justice for the Poor
Eve Forever
Peace in the Eye of a Needle
Cry Peace on Golan Heights
Benus Adu Poku's poetry is included in the epoch-making anthology, The World Largest Poem for Peace donated to the United Nations by The International Society of Poets, which makes monetary donations on behalf of poets to UNICEF.
The author has won a number of Editors' Choice Awards for his outstanding Poetry. He is a member in good standing of Pen International, South African Writers Circle (SAWC) and Winning Writers, USA. Conspicuous among his literary accomplishments is, The International Poet of Merit Award, USA.
Where to find benus adu poku online
Books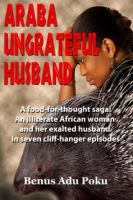 ARABA UNGRATEFUL HUSBAND
This saga establishes the artistic and literary prowess of Benus Adu Poku. Araba is crying from her heart to tell the world about the morally despicable attitude of her ungrateful husband. Araba is to lose her position as a legitimate wife to her bosom friend because she cannot deliver a 'Vote of Thanks.' The man she has loved and supported throughout the difficult stages of their marriage has now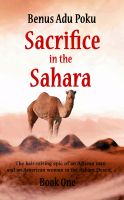 Sacrifice in the Sahara (Book One)
This is Book One of a trilogy with the same title. This hair-raising epic is a magnum opus of Benus Adu Poku, Editors' Choice Award-Winning and Critical Acclaim Author. Boison is a young African man compelled by socio-economic hardships in his country to flee to Europe for a better life through illegal and unconventional routes in the Sahara desert. There, he comes upon Hilda, the American woman.