Berin Stephens
Biography
Berin grew up in Chugiak, Alaska. He is a professional saxophone performer and teacher. He currently lives in Orem, Utah with his wife and five children.

He has two books out. The first is The Dragon War Relic, a young adult fantasy/sci-fi/comedy about a 16 year old boy who is given a mysterious ring that, when he puts it on, summons an Ogre from outer space.

His latest book, Time Gangsters, is a middle grade urban fantasy about two 12 year old cousins who discover magical Egyptian coins buried in their bedroom walls and that there are gangsters traveling through time from 1927 to get them back.

Both books are published by Cedar Fort.
Where to find Berin Stephens online
Books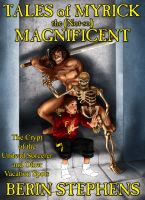 The Crypt of the Undead Sorcerer and Other Vacation Spots
Myrick not only has to deal with a new partner and the fear of a haunted valley, but he also encounters the greatest danger of all: a brainless barbarian with a really big sword.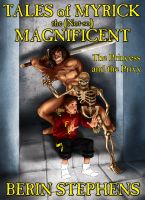 The Princess and the Privy
All Myrick wants to do is join the army of Fringolia so that he can slay dragons and rescue princesses. If only it were so easy.