Bernadette Walsh
Biography
Bernadette Walsh is a native New Yorker who, when she isn't busy practicing law and tormenting her fellow commuters on the Long Island Rail Road with the tap-tap-tapping of her laptop, enjoys reading and now writing novels. As the daughter of an Irish immigrant, she has always been fascinated by the Irish immigrant experience and explores some of these themes in The House on Prospect. Bernadette has won several writing contests. The House on Prospect is her second published novel.
Where to find Bernadette Walsh online
Books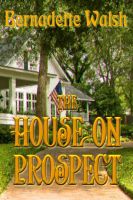 The House on Prospect
(4.63 from 8 reviews)
Ellen Murphy spent her childhood in an idyllic house by the sea. A house surrounded by flower-filled gardens and a white picket fence. A house she fled at eighteen. A house full of secrets.
Bernadette Walsh's tag cloud