Beth Michele
Biography
Beth Michele is a wife, a mom, an author, and a lover of all things chocolate, well, anything sweet really. She enjoys reading young adult and new adult novels furiously, and spending time with her husband and two adorable children. Beth is a hopeless romantic and a happily ever after fanatic, and loves to write about LOVE. Love Love is her first published novel.
Where to find Beth Michele online
Books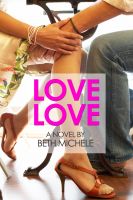 Love Love
What happens when your past runs interference with your future? Something monumental. What happens when what you think you want, isn't what you want at all? Maybe something unexpected. What happens when you least expect it? Maybe something magical. What happens when love finds you but your heart has gone into hiding?
Beth Michele's tag cloud