Bill Heller
Biography
Author Bill Heller has won horse racing's Eclipse Award for outstanding magazine writing and is a three-time winner of the John Hervey Award for harness racing magazine writing. He lives in Albany, NY.
Where to buy in print
Books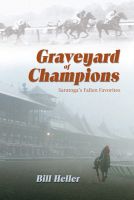 Graveyard of Champions: Saratoga's Fallen Favorites
Explore the history of the great favorites that have entered Saratoga as champions, but left without a win. Author Bill Heller traces the history of this phenomenon from the racetrack's beginnings in the 1860s to the present day.
Bill Heller's tag cloud