Bill Metzger
Biography
Bill is a retire self-made millionaire who enjoys writing for pleasure, not profit. He has a few books published and is working on others.
He claims he is an old cowboy and uses old time cowboy lingo in his books. He has always been a rogue and likes to do things differently. He likes to write humor and adds quite a bit of it to every thing he does. He has written over 300 poems and songs, a book with all of them is due out soon. He harbors a totally different slant on life, and enjoys irony, and talks and writes about his different take on things, which usually has humorous overtones.
Where to find Bill Metzger online
Books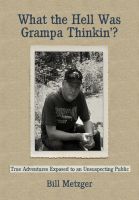 What the Hell Was Grampa Thinkin'?
"What the Hell Was Grampa Thinkin'?" includes over 160 short stories, wherein the author makes fun of his 70+ years of life, by injecting humor into his real-life shenanigans. He's not disclosed these tales before now, because he had no sane reason to do so, maybe now he's insane.