Shirley Hessel
Biography
Shirley Hessel attended Wagner College on Staten Island, NY, graduating with a B. A. in English in 1960. Before raising four children, she taught school in Ohio and Queens, NY. After years of volun-teer work with the National Sudden Infant Death Syndrome Foundation, she became interested in heal-ing and spiritual growth. Over the years she attended many workshops and classes to further her under-standing. Shirley traveled extensively to Peru and Bolivia, Mexico, Egypt and Canada plus American national parks and sacred sites. Following guidance, she has lived in many areas of our beautiful coun-try. She now resides in Lake Placid, NY.
Books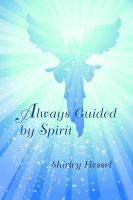 Always Guided by Spirit
By
Shirley Hessel
Price: Free! Words: 14,120. Language: English. Published: November 30, 2012. Category: Fiction
Guidance is always available to those who seek it. This book gives a simple explanation of how we are always guided by spirit - unseen benevolent forces in our lives - and our universe. We only need to be aware of them and to ask.
Past Life Living in the Present
By
Shirley Hessel
Price:
$1.99 USD.
Words: 18,600. Language: English. Published: October 9, 2012. Category: Nonfiction
This is a personal account of spiritual healing work dealing with reincarnation. It's purpose is to educate and relate soul growth to reincarnation. It allows questioners and disbelievers a perspective on the subject along with an understanding of spiritual healing work too.
Shirley Hessel's tag cloud