Bree Roberts
Biography
Writer Bree Roberts worked as a programmer before deciding to end her career to become a stay-at-home mom. This gave her plenty of time to pursue a career in fiction writing. Her first Romantic Suspense manuscript, "Starting Over," is entered into the RWA's Golden Hearts Contest. The sequel is in the works.

Brenda Roberts, writing as Bree Roberts, is a native of Kingsport, Tennessee. Growing up, she was a voracious reader of anything she could get her hands on, including her friend Cindi's Nancy Drew books, her father's Greek mythology books, sports books, Agatha Christie books from her weekly library trips, and by the age of eight had read the KJV Bible cover-to-cover. As she got older, she gravitated more toward mystery fiction.

Bree is a member of Romance Writers of America and lives in Ohio with her husband, her two toddlers, and their Black Labrador, Jasmine.
Where to find Bree Roberts online
Books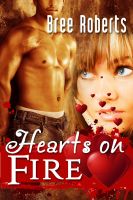 Hearts on Fire (A Valentine's Day Romance)
(4.00)
Jessica O'Malley fights fires and saves lives when she's not nursing her broken heart. Now her ex-boyfriend, Cort Cavanaugh, has returned after leaving her on Valentine's Day one year ago, and he wants her back. Should Jess fight the fire burning in her heart? Is it too late for her old flame?