Jan Hinds
Biography
Jan Hinds is one of five daughters and the mother of five children. She grew up in the northeastern Ohio and has lived in Kentucky, Wisconsin, Illinois and currently resides in Indiana with her husband, son and two dogs. She has an eclectic background which includes a degree in Forestry, telephone customer service, retail sales and now is the author of the Tharon Trace Mystery series and the cookbook series Not So Secret Family Recipes.
Books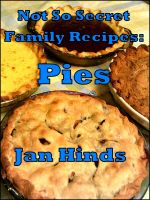 Not So Secret Family Recipes: Pies
Not So Secret Family Recipes: Pies is the first book in my series of cook books to share and preserve those handed down recipes which may otherwise be lost. Included are over fifty recipes handed down from as much as five generations and tips that will give even the most pie wary novice the confidence to understand the expression, "easy as pie!" Let's get rolling!
Jan Hinds's tag cloud