Caroline Bourne
Biography
Caroline Bourne was born in Southampton, England to an American father and an English mother. Spending only seven months in England, she grew up in the small southern town of Lecompte, Louisiana, in between transfers to Army posts in Texas and Arkansas with her Army father. She was an avid horse lover and spent many hours on horseback, riding with a group of friends on weekends. Graduating from Lecompte High School in 1965 she went on to spend two years in the United States Marine Corps, being honorably discharged as a Corporal E-4 in 1967. Returning to Louisiana, she went to work for a local newspaper, the Alexandria Daily Town Talk, eventually married and had two daughters, Kristen and Kimberly. Her first novel was published in 1984 by Kensington and 12 others, plus a co-authorship and two contributions to anthologies followed. As the years passed, she worked for lawyers and judges, and eventually moved to Indiana to be near her sister. For the past fourteen years she has worked for a Southern Indiana police department. Today, she is the grandmother of six granddaughters and one great-grandson.
Where to find Caroline Bourne online
Books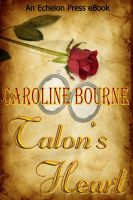 Talon's Heart
by

Caroline Bourne
Talon's heart is captured between the two equally imposing men, but only one can gain her undying love and devotion. Torn between her heritage and her heart, Talon Rose battles the demons of the world as fiercely as the ones within herself.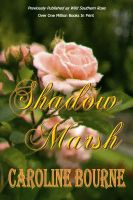 Shadow Marsh
by

Caroline Bourne
Anna Rose St. Cyr, determined to hold her family plantation, was more woman than most men could handle. The headstrong southern belle had a mind of her own and she could not deny that she'd met her match in handsome Morgan York. After hiring the mysterious stranger as foreman of her Louisiana plantation, she could think of nothing else.
Caroline Bourne's tag cloud