Carolyn Burns Bass
Biography
With a sword swallower as a father and a closet chanteuse for a mother, it's no wonder Carolyn Burns Bass became a writer. A longtime journalist for entertainment, travel and lifestyle media, Carolyn has had short fiction published in The Rose & Thorn, Breath & Shadow, and MetroFiction ezines and is working on a novel called The Sword Swallower's Daughter. She would like to list prestigious colleges attended and degrees obtained, but she restricts her fiction to made-up people.

Carolyn is the founder and moderator of LitChat, the popular literary discussion that occurs through Twitter using the hashtag #litchat. Follow her on Twitter at @CarolyBurnsBass, visit her blog at www.ovations.blogspot.com, and visit her website at www.CarolynBurnsBass.com.
Where to find Carolyn Burns Bass online
Books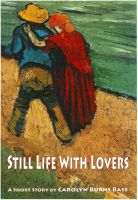 Still Life With Lovers
(5.00)
"It wasn't like Gustave to storm out of the flat when Lisette opposed him. Usually Lisette would flee to Margot's place, returning a few hours later to find Gustave sulking and sauced, but eager to make up..." A century-old diary of a young woman's frustrated marriage and infatuation with a wild painter named Vincent Van Gogh, gives a contemporary woman new insights into her own marriage.