Dave Girard
Biography
Dave Girard is a California-based art director and 3D illustrator who has written for Ars Technica, Vice and Macworld. His Polygons Pixels and Paint blog is a respected source of Maya and 3D workflow techniques. He is also the author of popular Maya scripts V-Ray Tuner and Facer. He currently works at Apple.
Where to find Dave Girard online
Books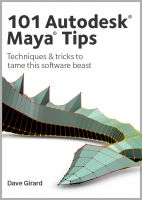 101 Autodesk Maya Tips
(4.50 from 6 reviews)
It's your lucky day! 3D artist and Maya® expert Dave Girard is giving away over 12 years worth of Autodesk® Maya® tips and tricks cheap!
Dave Girard's tag cloud