Sylvia Brombin
Biography
Sylvia Brombin graduated from Valencia Community College in Orlando, Florida with a degree in Graphic Design in 2005. She also graduated from the Sheffield School of Design in New York with a degree in Feng Shui Interior Design.
"When I first heard and learned about Feng Shui it immediately caught my attention and curiosity. I decided to learn it in depth and put it into practice in my surroundings. To this day I have received many benefits of Feng Shui and I recommend it to everybody I meet. I have improved my sleep, finances, and have gotten significantly more freelance job opportunities since I started performing rituals. I know first-hand that Feng Shui works and makes me feel great!"
-Sylvia Brombin, CFSP

Remote consultations are available in English or Spanish. For more information about our services, to schedule an appointment for a consultation, or to request our rates, please contact us at: chiyihealing@gmail.com.
Books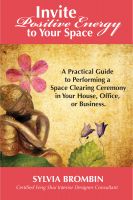 Invite Positive Energy to Your Space
A Practical Guide to Performing a Space Clearing Ceremony in Your House, Office, or Business.
Sylvia Brombin's tag cloud