Chris Hampton
Biography
Chris Hampton's journey with soccer began nearly forty years ago with trips to England for soccer camps, the English Football Association coaching school, Division II soccer at Rollins College in Florida, and a coaching career (mostly high school) that took him from Alaska to Arizona and, finally, to Southern California. Much of the setting for these stories was borrowed from those Southern California years, coaching while teaching high school English. For the past three years, Chris has taught at Monument Valley High School on the Navajo reservation in Arizona. He and his wife, Ann, now spend much of their time taking and teaching classes on traditional wilderness skills, traveling, and writing about their experiences.
Smashwords Interview
Books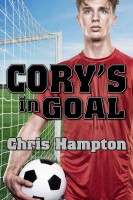 Cory's in Goal
Cory Towson is the new kid at school and on the Grandview soccer team. When a split-second accident ends the star 'keeper's season, Cory also finds himself the new kid in goal, with the team's hopes for the championship riding on his shoulders. With riveting action on and off the soccer pitch, Cory's in Goal follows a boy's quest for excellence and stability in his fast changing world.
Chris Hampton's tag cloud