Chris Keniston
Biography
Author of four contemporary novels, including a finalist for the prestigious Golden Heart Award, Chris Keniston lives in suburban Dallas with her husband, two human children, and two canine children. Though she loves her puppies equally, she admits being especially attached to her German Shepherd rescue. After all, even dogs deserve a happily ever after.
Where to find Chris Keniston online
Books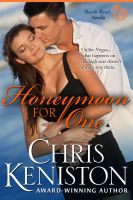 Honeymoon For One
(4.56)
To escape local gossip, jilted bride Michelle Bradford embarks on her honeymoon cruise alone. Coaxed by a thrill seeking hunk she never expects to see again, she slowly sheds her good girl persona to have some well deserved fun.
Chris Keniston's tag cloud