Christina Tarabochia
Biography
Christina (Tarabochia writes about the heart and soul of life with a twist of intrigue. She holds a bachelor's in literature, yet loves a good calculus problem as well. Captain of a winning Family Feud team, Christina is also a purple belt in tae kwondo and would love to own a de-scented skunk. Her debut novel, The Familiar Stranger, was a 2010 Christy Finalist and Carol Award winner. Christina is a member of American Christian Fiction Writers and the Redeemed Writers critique group. A bride who found her prince on eHarmony, she runs a thriving editing business and is the Publisher at Ashberry Lane Publishing.
Where to find Christina Tarabochia online
Where to buy in print
Books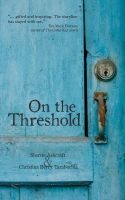 On the Threshold
Suzanne—a mother with a long-held secret. Tony—a police officer with something to prove. Beth—a daughter with a storybook future. When all they love is lost, what's worth living for?