Christo Jovner
Biography
We have been involved in ministry since 1990 serving wherever God called us. After studying our marketplace degrees, we have also studied in the theological arena to equip ourselves for the work of the ministry. With a rich heritage in faith we were involved in church planting, pastoring, teaching and training believers and raising up the next generation.

Under the leading of the Holy Spirit IN TUNE - Word Worship Lifestyle - was founded by Christo & Maryna Jovner in 2011. Our aim is to preach and teach the WORD of God, to teach on the various aspects of WORSHIP and to impact people to live an abundant LIFESTYLE. Our heart is to present the Word of God with sincerity, passion, and a deep rooted revelation of the Person of Jesus Christ so that His legacy continues even stronger in the generations that follow ours. Changing our world one person at a time.
Where to find Christo Jovner online
Books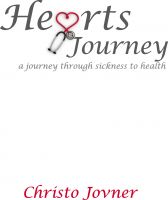 Hearts Journey
Hearts Journey is a true story of a journey through sickness and emotional turmoil. It tells the story of how a couple copes with the unexpected and deals with it. Although this book was written for heart patients - it will encourage anybody going through sickness. This book is sure to help you cope with the emotional stresses that accompanies a sickbed - to gain perspective and to overcome!