Christopher Gill
Biography
Christopher Gill was Conservative MP for Ludlow from 1987 to 2001 - and one of the anti-Maastricht "bastards" who raised the standard of Eurosceptic revolt within the Tory Party. He subsequently served as Chairman of the Freedom Association and later joined the UK Independence Party (UKIP).
Where to buy in print
Books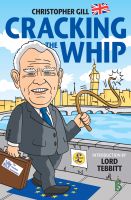 Cracking the Whip
Fast-paced political memoir by a former Conservative MP charting the infiltration of the Conservative Party by non-conservative elements and the subversion of a once-great political party.
Christopher Gill's tag cloud