Christopher Jon
Biography
I was born in 1938 in Nairn, a small town in the Highlands of Scotland. I was schooled there and went on to qualify as an Architect in Edinburgh in 1962. Rona and I were married that same year and we are still together. We have three children, Mark, Sarah and Peter and eight grand children.
For the most part I have enjoyed the practice of architecture and unsurprisingly, given the number of years I have been at it, my CV is embarrassingly extensive.

In 1982, the sad end of the business my partner and I had established and run for ten years in the Scottish Highlands prompted my move to Umtata in the Transkei in the Eastern Cape Region of South Africa to manage the branch of a multi-disciplinary firm. Rona and Peter joined me soon after and Peter completed his education in Umtata in what, unusually at that time, was a multi racial school. I had accepted the job on the basis of a two year contract and then became a partner in the firm.

In 1987 I resigned and moved to Maseru in Lesotho to run our own business and thereafter moved to Johannesburg in 1990 in time to be part of the exciting changes taking place in South Africa and to vote in the first democratic election in 1994.
Since then I have lived and worked in most parts of South Africa and several other Southern African countries as an architect, a development consultant and latterly as a project manager. From 2006 to 2009 we lived and worked on a romantic desert island off the coast of Mozambique, experiencing cyclones and fires.

In the late 1990s and the early part of this century work was slow and it was then I began to write seriously. Now, after having moved house more than thirty times, we seem to have settled at last in the outskirts of Durban and I intend to spend all my time pursuing this passion.
My first two books, 'Missed Connections' and 'The Botticelli Angel' feature Andile Moloi, a private detective.

I have written three books for youngsters (or children of all ages), 'Flight to Freedom', 'The Drowning Land' and 'Last Battles' and have begun the fourth book in the series.
Where to buy in print
Books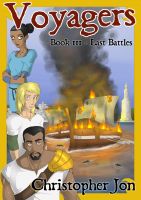 Voyagers - Last Battles
When Princess Keti had left Othanya, her brother Prince Horus, weak and confined to bed, had been at the mercy of their cruel stepmother Felina, who had seized power as Regent on the death of their father, the King. Determined to return to Othanya to save her brother and secure his succession to the throne, that is rightfully his, she sailed for Mazuma from New Monydra on the Gargas Lady.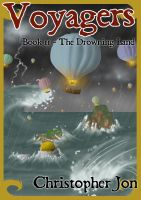 Voyagers - The Drowning Land
For days the Voyagers' hot air balloon had drifted over a vast empty ocean. It was night when in attempting to land on a small island they crashed into the sea. Having been rescued by four youngsters on a fishing expedition, they discover that the island is all that is left of Monydra, once a great and powerful civilization which now lies under the sea.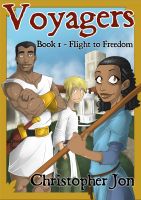 Voyagers - Flight to Freedom
Flight to Freedom, the first of the Voyagers series, tells how fate conspires to bring the three main characters together, a young girl, the Princess Keti, a young boy, Hal, an orphan and a thief and Shakata, a giant warrior with superlative fighting skills and how in adversity their indestructible friendship is forged.