Sam Turner
Biography
Sam Turner, a retired art and writing teacher who served with the Arizona Education Association Innovative Teaching Techniques Cadre as a Trainer of Trainers in Facilitating, is a freelance writer. He's contributed to Arizona Highways and The Aviation and Business Journal. He teaches memoir writing, and he and his wife Phyllis have published This Might Help: A Three-Year Walk Through the Valley with the Compassionate Friends, a compilation of monthly columns published in the Tucson Chapter newsletter, Walking This Valley. Compassionate Friends offer guidance, comfort and hope for parents who have suffered the death of a child. Sam has been journaling for forty years and offers his most recent work, Living with the Semi-Rigid Penile Prosthesis, in hopes that, for those considering a procedure, this record might put them at ease.
Where to find Sam Turner online
Books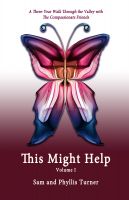 This Might Help Volume I
Seasoned grievers and the freshly bereaved alike will find practical guidance, comfort and hope in this candid, readable volume.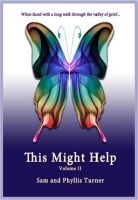 This Might Help
Reading this book might be your first step in the long walk through the valley of grief. Hopefully, you will discover new strengths along the way. We invite you to keep a journal of your passage through this valley. As you write, you might discover your own healing occurring.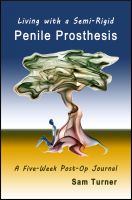 Living with the Semi-Rigid Penile Prosthesis
The author hopes, for those considering this procedure, this account might put them at ease.
Smashwords book reviews by Sam Turner
Feral Fables on July 08, 2010
(no rating)
At a recent writer's retreat, I used two of her fables as "lead offs" for writing exercises. They were well received. Sam Turner, Tucson, Arizona

Vignettes from a C-130 on Dec. 16, 2011
(no rating)
VIGNETTES from a C-130: Harvey: I was 14 years old when Marine Gunnery Master Sergeant D. Alexander stayed with my family for three months. He had retired after 35 years. (He was a cousin of my mother's. They grew up together in Shepherd, Texas.) He made all the landings in the Pacific until he was wounded on Eniwetok with a bullet through a muscle in his leg. By way of ongoing physical therapy, he had me hike with him on the Bright Angel Trail across the Grand Canyon. (I lived on the South Rim.) Being an only child, I looked up to him as an uncle. I remember resting on a switch back and saying, "This is just like the Marines, isn't it Drummond?" A dark cloud came over his usually smiling face and he answered, "No, Sammy. This isn't at all like the Marines." Even at fourteen I sensed that I had struck a serious chord with him. Years later, long after he had moved on, I realized that he must have had what is now called PMT. He couldn't sit still for more than five minutes. Even now, I can't imagine what terror, what horror he must have felt with each landing of an island. There were moments when your vignettes touched me again as I thought of Drummond. They brought tears. Thank you for sharing. Sam Turner

Vignettes from a C-130 on Dec. 17, 2011

Forgot to rate this book. If you've every been in the military-or not-this gives a clear picture. Well worth a read. Sam Turner