Charles Dougherty
Biography
Charles Dougherty was born and raised in Savannah, Georgia. After a varied career as a corporate executive, laborer, lawyer, entrepreneur, salesman, and management consultant, he retired, sort of, and moved aboard his sailboat with his wife in 2000. He has been cruising in the Caribbean since 2004, where he spends his time reading, working on the boat, writing, working on the boat, foraging, and working on the boat.
Where to find Charles Dougherty online
Where to buy in print
Books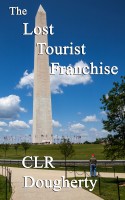 The Lost Tourist Franchise
Donald, just out of the Army and eager to see the sights, is mugged within minutes of his arrival in Washington,D. C. Luther, perhaps a good Samaritan, comes to his aid, offering him a chance to recoup his losses while touring Washington. Will Luther lead Donald astray? Will Donald come through with his ethics intact?