Corey Sondrup
Biography
For the past 15 years, Dr. Corey Sondrup has been combining chiropractic, nutrition, and energy healing at his two clinics in Ogden and Park City UT. "Reclaiming Your Power" is Dr. Corey's first book on self help and personal growth. His second book is due out in late 2011. In addition to maintaining a busy holistic oriented practice and writing books, Dr. Corey teaches seminars and workshops on energy healing throughout North America.
Where to find Corey Sondrup online
Books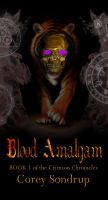 Blood Amalgan; Bookd 1 of the Crimson Chronicles
"Times up skinwalker." What if you woke up one day and found out the life you had been living was a dream and the people in your life weren't who you thought they were? What if you found out you were something other than what you thought you were?
Corey Sondrup's tag cloud