Ryan T. Cragun
Biography
Ryan T. Cragun (1976-) is a husband, father, and sociologist of religion (in order of importance). Originally from Utah, he now lives in Florida and works at the University of Tampa. His research and writing focuses on religion, with an emphasis on Mormonism and the nonreligious. When he's not working, he's spending time with his wife and son, watching science fiction, hiking, playing soccer, or tinkering with FOSS, Gnu/Linux, or computer hardware.
Where to find Ryan T. Cragun online
Where to buy in print
Books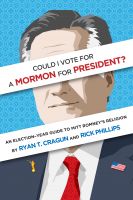 Could I Vote for a Mormon for President? An Election-Year Guide to Mitt Romney's Religion
Mitt Romney is a Mormon, but does that mean he's a Christian? Does he belong to a cult? Does he wear funny Mormon underwear? These questions and more are answered in this accessible and concise introduction to Mormonism, in which two sociologists of religion take an objective and often humorous look at 2012 presidential candidate Mitt Romney's beliefs.