Creating Keepsakes
Biography
Creating Keepsakes magazine is the leading magazine for inspiration and techniques for scrapbookers. Founded in 1996, this magazine presents expert advice and hundreds of ideas for photography, journaling, organization, and more to help readers create scrapbooks to share their stories with their friends, family, and generations to come.
Where to find Creating Keepsakes online
Books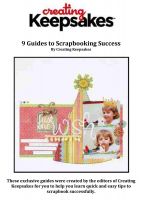 9 Guides to Scrapbooking Success
These exclusive guides were created by the editors of Creating Keepsakes for you to help you learn quick and easy tips to scrapbook successfully.
Creating Keepsakes's tag cloud