Christopher R Harris
Biography
Chris Harris received his BFA in photography from Rochester Institute of Technology in 1969, and his MS in Journalism from the University of Alabama in 1990.
Between undergraduate and graduate years Mr. Harris worked as a freelance photojournalist for major news publications worldwide, and was a founding member of Gamma/Liaison photo agency. He has completed hundreds of assignments for TIME, Newsweek and The New York Times as a photojournalist, and worked as a reporter on investigative teams for TIME, and The New York Times.
Professor Harris is the author of numerous academic journal articles as well as trade publications. His historical, legal, and photographic academic research has been published in The Journal of Mass Media Ethics, Visual Communication Quarterly, History of Photography, MedienPsychologie, Federal Communication Law Journal (UCLA) and Communication and the Law. His textbook, Visual Journalism, was recently released by Allyn & Bacon.
Where to find Christopher R Harris online
Books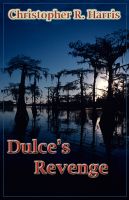 Dulce's Revenge
Based in New Orleans and the marshes south to the Gulf of Mexico. Federal agents assassinate an anti-Castro Cuban leader, and a maligned black community retaliates against cops gone bad. A confrontation ensues after the rogue cops kill a child. Computer manipulated images seal the fate of the leader of the rogue agents.