Chris Weedin
Biography
Chris Weedin was born in 1970 and grew up with a healthy dislike for all things supernatural and frightening. Sometime after graduating from the University of Washington with a BA in History, everything went weird - now he absolutely loves the stuff. He has worked as a furniture deliveryman, professional tutor, youth minister and computer system administrator. He is the creator and developer of the horror-comedy roleplaying game Horror Rules and has written or co-written more than seven books for the series. In addition to writing about scary things, he also enjoys various activities that revolve around the theme of "scary": public speaking (just plain scary), running (getting away from scary), playing board/card/roleplaying games (pretend scary) and faith training (facing scary without having accidents). He lives in Selah, WA with his lovely wife and two lovely and obedient children, all three of whom are almost never scary.
Where to find Chris Weedin online
Where to buy in print
Books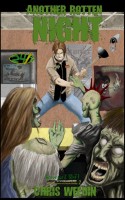 Another Rotten Night (Graveyard Shift: The Adventures of Carson Dudley, Book 2)
After defeating the fiendish vampire Vanessa, Carson returns to his beloved 24/7 only to find it threatened by a new foe - this one older, meaner and a whole lot stinkier. With corporate execs breathing down his neck, zombie ninjas (and worse) lurking in the shadows and his friends tangled up in troubles of their own, for Carson Dudley, it's bound to be Another Rotten Night!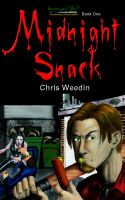 Midnight Snack (Graveyard Shift: The Adventures of Carson Dudley, Book 1)
Working the night shift at the local mini-mart, Carson Dudley has seen his share of weird - but never the kind that tries to kill you, drain your blood and stuff you in a dumpster. With an unlikely collection of hunters, including a trigger happy security guard, a techie co-ed and a nun with anger management issues, it's up to him to put a stop to things before he becomes the next MIDNIGHT SNACK!