dakota lane
Biography
Dakota Lane is a three time American Library Association winner, including Best Book, and her cutting-edge young adult novels, including graphic elements have been published by Random House, Simon&Schuster and HarperCollins. She is a youth advocate and her journalism and video work has appeared in the New York Times, Interview Magazine and Entertainment Weekly. She has a 15 million hit video on youtube!
Where to find dakota lane online
Where to buy in print
Books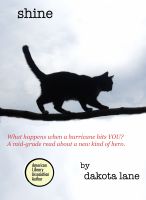 Shine
A thrilling book for ages 8--12, by three-time American Library Association winner and writer for Chicken Soup for the Pre-Teen Soul. Summer goes from dull to disaster when a hurricane forces Jada into an overcrowded shelter with her witchy grandma and spoiled cousin. As food and water run out,her courage and creativity is put to the test and she learns the true meaning of home.