Dani Alexander
Biography
The type of books I like to write: I love romance with an edge. A good story with lots of angst and a healthy dose of laughter. My stories will bludgeon you with angst and then make you laugh through your tears (I hope).

I enjoy suspense and my characters often have killers, guns, knives, Albanian women with big hands and/or psychopaths chasing them. Somehow they even manage to have sex during all of that running/investigating. I like writing sex scenes. I love writing sex scenes. But the sex in my stories is never gratuitous.

Speaking of sex, I love kinks. Bondage, masochism, sadism, domination, slave, uniform fetishes, latex, toys. As long as it's consensual, it's fair game.

My characters: Quirkier the better. That's my motto. And lots of flaws. Like me. I'm a giant flaw with one redeeming quality. I won't tell you what it is. (It's that I've got great fans/readers!)

The vague personal stuff: I'm married. I came out to my husband and he is nothing but supportive. He loves to read my stories and edit, but he refuses to read the sex scenes. This is why I have to read them several times and so does my editor. (I'm totally not making that up…. Really…. totally.)
Also, I have cats. And a dog.

The boring history: I wrote my first story when I was 15 years old. It was a fanfiction RP fic starring me and the lead singer of my favorite band at the time. Needless to say, I burned that when I found it a few years ago. And then I ate the carbon dust. You will never know of my erotic limo rides with Dave Ga- er… I mean…. Nothing to see here. NOTHING TO SEE. Moving on.

After finding that story, the writing bug slipped into my skin and began an itchy reminder to put some words on paper. I couldn't quite find my way to a story that made sense to me or that made me feel emotionally invested in the characters. Then I found the world of original slash fiction and fanfiction.

Having been a gay rights activist, a PFlag member and finally an out and proud genderqueer individual, I felt I'd finally delved into a world I both understood and felt inherently part of. The moment I started writing slash (m/m or gay fiction) I couldn't stop. I wrote my first story – which I will publish for free once I have time to edit it – in a month. The second story came just as naturally, though I took my time and crafted it over the period of a year. It's my first release called Shattered Glass.

I decided when it was time, that I would self publish my novels. Not that I have a problem with publishing houses. After all I was a member of Less Than Three press and I buy more books at Amazon, Dreamspinner Press and Samhain than I should. I made the decision to self publish because I wanted control over my story and my cover. I may change my mind and submit later stories to ebook publishers, but for now, I'm all on my own.

Let me know if I've made the right decision by reviewing my stories =D.
Where to find Dani Alexander online
Books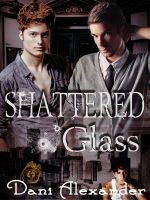 Shattered Glass
(4.71)
A male prostitute, a mangy cat, a murder and an obsession that threatens his career, his impending marriage and his life. Nothing is going as planned for Austin Glass.