Daniel Burnell
Biography
A year and a half ago, Daniel Burnell read some hot erotica and said, "I can do that".
Since then his erotic stories, novelettes and novellas have been or will soon be published in Mainstream Erotica, Fishnet Magazine, For The Girls, Etopia Press, The Erotic Woman and anthologies from Cleis Books ("Gotta Have It" and "One Night Only"),
Vagabondage Press (Lyrotica) and Coming Together, among other places.
Books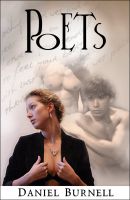 Poets
A sedate school teacher, and aspiring poet, throws caution to the wind and allows herself be seduced by two semi-famous, rouge poets in a local bar during poetry readings. The trio head back to her place to continue the seduction in a much more intimate surrounding where this school teacher get taught a thing or two about what it means to truly be ravished.
Daniel Burnell's tag cloud