Dan Kaufman
Biography
Dan Kaufman has been a journalist and an editor for over 17 years. He writes for The Sydney Morning Herald and The Age newspapers, publishes Bar Zine, a website that reviews Sydney bars, and he worked as an editor at the SMH for most of his career, across sections ranging from Travel and Health & Science to the careers and tech sections. He's a university lecturer at UTS and in the past he also worked for a range of lifestyle and tech magazines as an editor and a journalist.
Where to find Dan Kaufman online
Books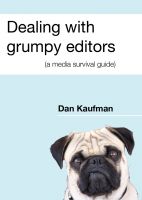 Dealing with grumpy editors (a media survival guide)
Want to write press releases that will actually get read by editors? Do you wonder why your existing press releases and media pitches aren't being successful? This book is written by an editor with over 17 years' experience on magazines and newspapers. It doesn't pull punches when it comes to what does - and what doesn't - work when pitching ideas to grumpy editors.
Dan Kaufman's tag cloud