Darcy Scott
Biography
Darcy Scott is a live-aboard sailor and experienced ocean cruiser who's sailed to Grenada and back on a whim, island-hopped through the Caribbean, and been struck by lightning in the middle of the Gulf Stream. Her favorite cruising ground remains the coast of Maine, however, and her appreciation of the history and rugged beauty of its sparsely populated out-islands serves as inspiration for her Maine Island Mystery Series, which includes 2012's award-winning "Matinicus" and the newly-released "Reese's Leap." Book three, "Ragged Island," is currently in the works. Her debut novel, "Hunter Huntress," was published in June, 2010 by Snowbooks, Ltd., UK. Learn more at www.DarcyScott.net.
Where to find Darcy Scott online
Where to buy in print
Books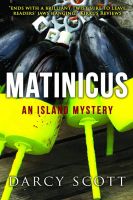 Matinicus — An Island Mystery
Steeped in Maine island lore, this century-spanning double mystery pits a renegade fishing community against an unhappy child-bride of the 1820s, a defiant twenty-first-century teen, and a hard-drinking botanist who escapes to the island of Matinicus to avoid a crazed ex-lover and verify a rumored 22 species of wild orchid, only to find himself hounded by the ghost of a child some 200 years dead.