Don Shogren
Biography
Don Shogren lives in Madison, Wisconsin with his wife, Judy, a.k.a. the Little Hun. In spite of themselves, they have two remarkably successful children and are blessed with two adorable grandchildren. Don likes to play outside, but he's flexible, especially if you're up for Scrabble.
Where to find Don Shogren online
Books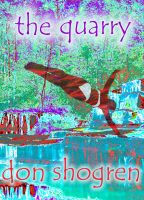 The Quarry
(5.00)
Forty years ago, forty feet in the air, a quandary ... and a good friend.