Angel Donovan
Biography
Angel has a strong interest in the power of self development to transform individuals and organizations. He turned that focus to dating mastery in 2001. He is the Chief Editor and co-founder of Dating Skills Review.

Early on in his life this led him to pursue a challenging career in management consulting, working and living across the globe advising executives in Fortune 500 companies. In this role, he spoke at some of the top business schools, acted as key note speaker at conferences and on private engagements for large corporate clients.

In 2001 he discovered Dating Advice and the Pick Up Artist community and began studying and learning.

In 2003 he founded Impact Interaction, the first European dating coaching company which is referenced in the bestselling book about the seduction community's development "The Game" by Neil Strauss. He, and the other founders, sold the original company for a substantial sum in 2006, as they moved their business interests on to other areas in other parts of the world.
Where to find Angel Donovan online
Books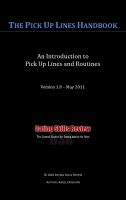 The Pick Up Lines Handbook
Inside you will learn: (1) What a Pick Up Line is, what a routine is, what makes it good (or bad), and how it works. (2) Where you can get routines and which ones you should use. (3) How to effectively use a routine. How you say it makes the difference between looking really stupid or getting the girl. It's that simple. (4) Example pick up lines that have been 'field tested' and proven to work.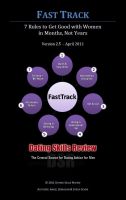 Fast Track: 7 Rules to Get Good with Women in Months Not Years
"Learn How to Avoid Wasting Years to Get Good with Women" Exposing the formula that has allowed today's dating gurus to get really good with women within 1 year. You will learn: * The two "easy skills" you need to get done immediately. * How to avoid the trap that leads many men to waste hundreds of hours studying dating advice. * The 3 lifestyle changes that will accelerate your learning curve.