D A Gregory
Biography
Born at an early age, discovered chocolate - enjoying life! Fiction, in my view, should not have to stick to one genre - life is full of drama, mysteries to be solved, romance and fun, so a story can have all that too. Literary heroine: Agatha Christie. Many more Pebbleton books in the pipeline, the village is the star.
Books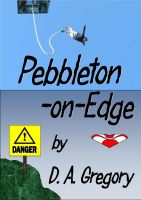 Pebbleton-On-Edge
(5.00 from 9 reviews)
In a quiet English seaside village Sue and her colleagues at the Parish Council think life is fun but boring, until they are shocked out of complacency when murder is discovered literally under their noses. The arrival of police and reporters alarms the unlikely new Parish Clerk, who has good reason to seek obscurity. Worse is to come, as a 200-year-old crime produces modern consequences.
D A Gregory's tag cloud